Welcome to the  BMFA Member's Handbook Online.
The BMFA is constantly reviewing its advice to model flyers and it regularly advises the Civil Aviation Authority (CAA) on model flying matters. Extracts from the latest CAA issue of the Air Navigation (Amendment) Order 2018 are incorporated into this book for your information. However some elements of the ANO are still under discussion and have therefore been excluded. They will be included when decisions have been made.
The Member's Handbook is an active document that is constantly kept under review and we are very happy to receive input from anyone concerned about model flying matters.
In fact, we know that many of you will recognise new sections or paragraphs or alterations to existing paragraphs that cover matters that you have brought to our attention over the past and we would encourage anyone with comments on the Handbook or with ideas for new or changed items to contact the Technical Secretary via the BMFA Leicester office.
Please note that the BMFA Website – www.bmfa.org is the major source of information for the BMFA.  It is regularly referred to throughout this document as there are many specialist booklets now available for downloading (also available from the Leicester office).
Words of masculine gender should be taken to include the feminine gender unless the context indicates otherwise.
British Model Flying Association (SMAE Ltd)
Chacksfield House,  31 St Andrews Road,   Leicester,  LE2 8RE
Telephone  0116 244 0028
e-mail  admin@bmfa.org
Website  www.bmfa.org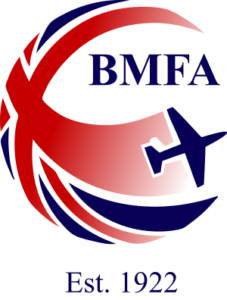 Latest Updates